Home

/

Galtech Q25 & Q45 Manual Valve
Galtech Q25 & Q45 Manual Valve
Description
Q25M/* & Q45M/*
• Monoblock valves equipped with load drop check and adjustable relief valve, up to 8 banks.
• Max. back pressure = 25 bar standard. (180 bar on 1 & 2 bank valves on request)
• 3/8" BSP inlet & cylinder ports, 1/2"BSP tank port. 1/2" BSP for all ports on Q45.
• Handle can be fitted either end with various orientations.
• Caution: Remove load check if using any motor spools with over running loads.
• Optional 12/24 VDC solenoid operation.
Download the Galtech Valve Order Form to specify each bank (spool, handle, relief etc).
Model

Description

Max. Flow

lpm

Max. Pressure

bar

Q25 or 45M/1

1 Spool c/w Relief

40 or 60

350

Q25 or 45M/2

2 Spool c/w Relief

40 or 60

350

Q25 or 45M/3

3 Spool c/w Relief

40 or 60

320

Q25 or 45M/4

4 Spool c/w Relief

40 or 60

300

Q25 or 45M/5

5 Spool c/w Relief

40 or 60

300

Q25 or 45M/6

6 Spool c/w Relief

40 or 60

300

Q25 or 45M/7

7 Spool c/w Relief

40 or 60

300

Q25 or 45M/8

8 Spool c/w Relief

40 or 60

300
Configuration Options

02566 F6D

Power beyond sleeve Q25.

04566 F6D

Power beyond sleeve Q45.

03600 A1-A2

Handle and bracket

03741 R1

1 position detent kit. Pull lever to detent.

03742 R2

1 position detent kit. Push lever to detent.

03743 R1K

1 position pull to detent. Adjustable hydraulic release. Suitable for a logsplitter.

03743 R2K

1 position push to detent. Adjustable hydraulic release. Suitable for a logsplitter.

03743 R3

3 position detent kit.

03746 R6

2 position detent kit

03748 R8

4th Position float kit.

Z10071L1500

1.5m remote cable.

Z10071L2000

2.0m remote cable.

Z10071L3000

3.0m remote cable.

03637 A15-R

Dual axis lever to fit directly to valve.

03630 SL

Remote lever

03631 SL/A15-DU

Dual axis remote lever.

03715 M1-U2

Cable adapter kit.

03661 P1-N

Pneumatic actuator.

03785 H5

Hydraulic actuator.

02571 103/71

12VDC on/off solenoid kit.

02571 103/72

24VDC on/off solenoid kit.

02567 F16D

Closed Centre Plug Q25

04567 F16D

Closed Centre Plug Q45
Downloads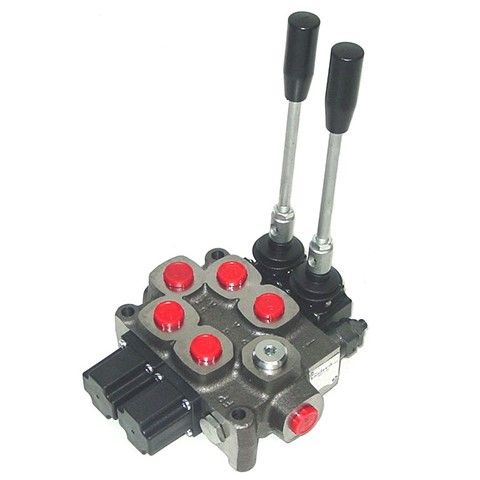 | Code | Product Name | Price | Stock Availability | Quantity | Enquire |
| --- | --- | --- | --- | --- | --- |
| 06.000.27888.99 | GALTECH NO RELIEF PLUG Q25/45 | $78.30 | In Stock | | |
| 06.000.30700.99 | GALTECH HANDLE & BRACKET Q25-D41 | $186.60 | In Stock | | |
| 06.010.28897.99 | GALTECH SPOOL D/A FOR D4 Q25 | $248.40 | In Stock | | |
| 06.010.28941.99 | GALTECH SPOOL S/A IN B PORT FOR D4 | $248.40 | In Stock | | |
| 06.010.28942.99 | GALTECH SPOOL D/A MOTOR FOR D4 Q25 | $248.40 | In Stock | | |
| 06.010.29050.99 | GALTECH SPOOL S/A IN A PORT FOR D4 | $248.40 | In Stock | | |
| 06.010.29057.99 | GALTECH SPOOL D/A MOTOR SERIES FOR D4 Q30 / Q50 | $248.40 | In Stock | | |
| 06.010.31790.99 | GALTECH SPOOL D/A CYL FOR Q25/45 NO TANG | $152.10 | In Stock | | |
| 06.020.29000.99 | GALTECH CENTERING SPRING FOR Q25 D41 | $13.10 | In Stock | | |
| 06.020.31754.99 | GALTECH HANDLE SPRING D41 EXTERNAL | $15.40 | In Stock | | |
| 06.022.28013.99 | GALTECH Q30/24/45 END CAP PLASTIC | $42.90 | In Stock | | |
| 06.029.22862.99 | GALTECH HANDLE Q25/45 | $32.10 | In Stock | | |
| 06.029.28945.99 | GALTECH HANDLE Q25/45 D41 | $25.70 | In Stock | | |
| 06.048.27623.99 | GALTECH SPRING Q25 CAP END ONLY | $73.50 | In Stock | | |
| 06.048.31284.99 | GALTECH END CAP Q75 R2K HERMATICALLY SEALED | $43.80 | Out of Stock | | |
| 06.049.27921.99 | GALTECH PORT PLUG 3/8 Q25 | $24.50 | In Stock | | |
| 06.078.29001.99 | GALTECH RETAINING WIRE D41 Q25 | $6.40 | In Stock | | |
| 06.093.27610.99 | GALTECH RUBBER BOOT Q25/45 | $16.70 | In Stock | | |
| 06.096.30603.99 | GALTECH PIPE FOR D41 Q25 | $14.20 | In Stock | | |
| 06.121.22787.99 | GALTECH HANDLE CLEVIS Q25/45 | $60.50 | In Stock | | |
| 02566 F6D | GALTECH POWER BEYOND SLEEVE Q25 | $39.80 | In Stock | | |
| 02567 F16D | GALTECH CLOSED CENTRE PLUG Q25 | $47.60 | In Stock | | |
| 02570 101/71 | GALTECH ON/OFF SOLENOID KIT 12V Q25/45 D41 | $740.00 | In Stock | | |
| 02570 101/72 | GALTECH ON/OFF SOLENOID KIT 24V Q25/45 D41 | $740.00 | In Stock | | |
| 02571 103/71 | GALTECH ON/OFF SOLENOID KIT 12V Q25/45 D41 | $740.00 | In Stock | | |
| 02571 103/72 | GALTECH ON/OFF SOLENOID KIT 24V Q25/45 D41 | $740.00 | In Stock | | |
| 02577 111/71 | GALTECH ON/OFF SOLENOID KIT 12V Q25/45 D41 | $740.00 | In Stock | | |
| 02577 111/72 | GALTECH ON/OFF SOLENOID KIT 24V Q25/45 D41 | $740.00 | In Stock | | |
| 03600 A1-A2 | GALTECH HANDLE & BRACKET Q25/45 PLASTIC | $56.70 | In Stock | | |
| 03610 A1-A2/10 | GALTECH HANDLE & BRACKET Q25/45 ALUM. | $63.00 | In Stock | | |
| 03617 A4 | GALTECH KIT THD SPOOL Q25/45 | $50.30 | In Stock | | |
| 03617 A4/03 | GALTECH KIT THD SPOOL Q25.45 ALUMINIUM | $50.30 | In Stock | | |
| 03620 A6 | GALTECH KIT SPOOL EYE Q25/45 | $58.30 | In Stock | | |
| 03630 SL | GALTECH REMOTE CONTROL Q25/Q45 | $154.40 | In Stock | | |
| 03631 SL/A15-DU | GALTECH DUAL AXIS REMOTE Q25/45 | $711.60 | In Stock | | |
| 03637 A15-R | GALTECH DUAL AXIS LEVER Q25 V/V MTD | $446.50 | Out of Stock | | |
| 03641 N1-A1/L10 | GALTECH HAND CONTROL WITH ON/OFF MI | $231.70 | In Stock | | |
| 03642 N1AA1/A2L | GALTECH HAND CONTROL WITH MICRO SWITCH S/A ON A PORT | $242.80 | In Stock | | |
| 03650 N1-01 | GALTECH LEVER ASSY FOR MICRO SWITCH 1 SECTION | $157.10 | In Stock | | |
| 03650 N1-02 | GALTECH LEVER ASSY FOR MICRO SWITCH 2 SECTION | $185.60 | In Stock | | |
| 03650 N1-04 | GALTECH LEVER ASSY FOR MICRO SWITCH 4 SECTION | $207.40 | In Stock | | |
| 03661 P1-N | GALTECH PNEUMATIC ACTUATOR Q25/45 | $244.50 | In Stock | | |
| 03715 M1-U2 | GALTECH REMOTE CABLE ADAPTOR Q25/45 | $117.00 | In Stock | | |
| 03730 M1 | GALTECH SPRING CENTRE KIT Q25/45 PLASTIC | $70.80 | Out of Stock | | |
| 03730 M1/03 | GALTECH SPRING CENTRE KIT Q25/45 ALUM | $103.00 | In Stock | | |
| 03735 M4 2-1 | GALTECH KIT SPRING OFFSET Q25/45 | $73.50 | In Stock | | |
| 03741 R1 | GALTECH SPRING CEN/DETENT Q25/45 | $70.80 | In Stock | | |
| 03742 R2 | GALTECH SPRING CEN/DETENT Q25/45 | $70.80 | In Stock | | |
| 03743 R3 | GALTECH DETENT KIT 3 POSITION Q25/45 | $63.00 | In Stock | | |
| 03746 R6 | GALTECH DETENT KIT 2 POSITION Q25/45 | $63.00 | In Stock | | |
| 03748 R8 | GALTECH FLOAT KIT Q25/45 | $119.70 | In Stock | | |
| 03750 R10/Z1 | GALTECH FLOAT KIT Q25/45 PUSH TO FLOAT | $175.00 | In Stock | | |
| 03766 M1-N1 | GALTECH MICROSWITCH KIT | $76.70 | In Stock | | |
| 03785 H5 | GALTECH HYDRAULIC ACTUATOR Q25/45 | $244.50 | In Stock | | |
| 03799 RTLD | GALTECH ROTARY CONTROL DETENT IN 0 | $133.90 | In Stock | | |
| 04566 F6D | GALTECH POWER BEYOND SLEEVE Q45 | $39.80 | In Stock | | |
| 04567 F16D | GALTECH CLOSED CENTRE PLUG Q45 | $47.60 | In Stock | | |
| 0125030-C | GALTECH SPOOL SPACER Q25/35/45 | $24.50 | In Stock | | |
| 460410 | GALTECH PIN D41 SPOOL Q25 | $5.30 | Out of Stock | | |
| 700035105000000 | GALTECH RELIEF CARTRIDGE Q25/45 N 30 - 280BAR | $133.90 | In Stock | | |
| 700035205000000 | GALTECH RELIEF CARTRIDGE Q25/45 B 10 - 100BAR | $133.90 | Out of Stock | | |
| 700035305000000 | GALTECH RELIEF CARTRIDGE Q25/45 R 80 - 380BAR | $133.90 | In Stock | | |
| KR30 101-102 | GALTECH SPOOL S/A Q25/45 | $208.50 | In Stock | | |
| KR30 103 | GALTECH SPOOL D/A Q25/45 | $208.50 | In Stock | | |
| KR30 103K | GALTECH SPOOL D/A Q25/45 HYDRAULIC RELEASE IN POSITION 2 | $209.80 | In Stock | | |
| KR30 107-108 | GALTECH SPOOL P TO A BLOCKED B TO T Q25 | $208.50 | In Stock | | |
| KR30 107-108.20 | GALTECH SPOOL S/A Q25/45 SENSITIVE | $208.50 | Out of Stock | | |
| KR30 111 | GALTECH SPOOL D/A MOTOR Q25/45 | $208.50 | In Stock | | |
| KR30 114 | GALTECH SPOOL D/A MOTOR CLOSED CENTRE Q25/45 | $208.50 | In Stock | | |
| KR30 116-126 | GALTECH SPOOL D/A 4TH POSITION FLOAT | $267.70 | In Stock | | |
| Q25-P1-S/K | GALTECH SEAL KIT PNEUMATIC ACT. Q25 | $36.10 | In Stock | | |
| Q25M/1 | GALTECH VALVE 3/8 1 BANK 40 LPM | $397.80 | Out of Stock | | |
| Q25M/2 | GALTECH VALVE 3/8 2 BANK 40 LPM | $655.10 | In Stock | | |
| Q25M/3 | GALTECH VALVE 3/8 3 BANK 40 LPM | $835.20 | In Stock | | |
| Q25M/4 | GALTECH VALVE 3/8 4 BANK 40 LPM | $1,044.90 | In Stock | | |
| Q25M/5 | GALTECH VALVE 3/8 5 BANK 40 LPM | $1,198.00 | In Stock | | |
| Q25M/6 | GALTECH VALVE 3/8 6 BANK 40 LPM | $1,434.80 | In Stock | | |
| Q25M/7 | GALTECH VALVE 3/8 7 BANK 40 LPM | $1,657.50 | In Stock | | |
| Q45M/1 | GALTECH VALVE 1/2 1 BANK 60 LPM | $452.90 | Out of Stock | | |
| Q45M/2 | GALTECH VALVE 1/2 2 BANK 60 LPM | $683.30 | In Stock | | |
| Q45M/3 | GALTECH VALVE 1/2 3 BANK 60 LPM | $878.90 | Out of Stock | | |
| Q45M/4 | GALTECH VALVE 1/2 4 BANK 60 LPM | $1,094.00 | Out of Stock | | |
| Q45M/5 | GALTECH VALVE 1/2 5 BANK 60 LPM | $1,337.20 | Out of Stock | | |
| Q45M/6 | GALTECH VALVE 1/2 6 BANK 60 LPM | $1,581.60 | In Stock | | |
| Q45M/7 | GALTECH VALVE 1/2 7 BANK 60 LPM | $1,837.70 | In Stock | | |
| Q45M/8 | GALTECH VALVE 1/2 8 BANK 60 LPM | $2,039.60 | In Stock | | |
| ZDB012 | GALTECH COIL D4 12VDC Q25/45 | $287.00 | In Stock | | |
| ZDB024 | GALTECH COIL D4 24VDC Q25/45 | $287.00 | Out of Stock | | |
| ZEG002 | GALTECH COIL RETAINING NUT D41 Q75/95 M26 x 1.5 | $28.40 | In Stock | | |