Home

/

Eaton / Vickers Cetop 5
Eaton / Vickers Cetop 5
Description
DG4V5 Series Features
• Up to 120 lpm and 315 bar.
• International standard interface. The valve mounting face conforms to ISO 4401, size 05 and is compatible with related international standards.
• Moulded coils for maximum insulating properties, which are impervious to dirt and moisture.
• Plug in solenoid for ease of maintenance.
• Indicating signal lights are standard.
Standard Cetop 5
Model

Description

Max. Flow

See Chart Below

lpm

Max. Press.

Bar

DG4V5-*-A**-MU-***-20

Single solenoid, 2 position

105

315

DG4V5-*-B-MU-***-20

Single solenoid, 2 position

105

315

DG4V5-*-C-MU-***-20

Double solenoid, 3 position

105

315
* - Spool type - Click here to view Eaton / Vickers Cetop spool types
** - Solenoid position
*** - Coil voltage
Max. Flow Rates @ 207 bar - Dual Flow Path

Spool & Position

VAC lpm

VDC lpm

0-A & 2-A

70

90

0-B & 0-C

85

90

2-B & 2-C

105

105

6

38

42

8

36

62
List price does not include Hirschman (DIN) plugs and M6x45 bolt kit
Maximum tank port pressure is 160 bar for DC and Bar for AC - consult Hydraulic Specialties
Soft Shifting Cetop 5
Use model code as for standard Cetop 5, but add J99 to end of model code. Requires one orifice disc per valve, included in the list price.
DC options only
Model
Single solenoid valves, please specify orifice size
Double solenoid valves, please specify orifice size
617470

12VDC coil

617471

24VDC coil

617475

110VAC/50HZ coil

617477

240VAC/50HZ coil

458502

24VAC/50HZ coil

710775

Standard DIN connector plug - Black

710776

Standard DIN connector plug - Grey

ISOL-30R

10-50V AC/DC DIN connector plug with LED

ISOL-80R

70-250V AC/DC DIN connector plug with LED

HS51SS

Steel Sub-plate, 1/2" BSP, side ported

937571

0.6mm orifice

937572

0.8 mm orifice

937573

1.0 mm orifice

937574

1.2 mm orifice

534569

M6 x 45 bolt kit
Downloads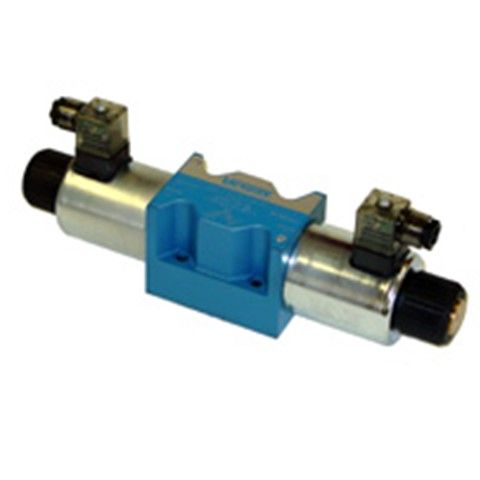 | Code | Product Name | Price | Stock Availability | Quantity | Enquire |
| --- | --- | --- | --- | --- | --- |
| 02-108323 | EATON CETOP DG5SH8-2C-T-40-EN55 | $1,611.80 | Out of Stock | | |
| 02-108851 | EATON CETOP DG4V5-2BL-VMU-ED6-20 | $730.80 | Out of Stock | | |
| 02-109038 | EATON CETOP DGV43-S-2AL-MU-G5-60 | $309.50 | Out of Stock | | |
| 02-109442 | EATON CETOP DG5SH8-8C-VMU-H5-50 | $2,497.20 | Out of Stock | | |
| 02-110806 | EATON CETOP DG5V7-2C-MU-H5-40 | $1,817.40 | Out of Stock | | |
| 02-110819 | EATON CETOP DG5V7-6C-MU-H5-40 | $1,817.40 | Out of Stock | | |
| 02-157416 | EATON CETOP DG4V5-0BL-MU-H6-20 | $730.80 | Out of Stock | | |
| 02-308596 | EATON CETOP DG4S4-016C-UH-60-S491 | $992.70 | Out of Stock | | |
| 02-333477 | EATON KBFDG4V5-2C50NZ-PE7-H5-10 | $6,754.50 | Out of Stock | | |
| 02-350060 | EATON CETOP KBSDG4V-5-92L50-PE7-H7-10 | $6,491.30 | In Stock | | |
| 02-414160 | EATON CETOP KBHDG5V5-5C85N-X-T-M1PH7 H4-11-EN90 | $9,717.10 | In Stock | | |
| 459112 | EATON CETOP DG4V5-8BLJ-VMU-H6-20 | $730.80 | Out of Stock | | |
| 459156 | EATON CETOP DG4V5-2C-MU-EK6-20 | $834.70 | Out of Stock | | |
| 459178 | EATON CETOP DG4V5-2BL-MU-A6-20 | $730.80 | Out of Stock | | |
| 459215 | EATON CETOP DG4V5-0B-MU-A6-20 | $730.80 | Out of Stock | | |
| 459359 | EATON CETOP DG4V5-6C-MU-EK6-20 | $834.70 | Out of Stock | | |
| 459788 | EATON CETOP DG4V5-0B-JMU-H6-20 | $730.80 | Out of Stock | | |
| 525744 | EATON BKE-4-50M (UNC EXTENDER) | $75.20 | Out of Stock | | |
| 565327 | EATON KDG4V5-2C-50N-Z-MU-H7-30 | $2,580.20 | In Stock | | |
| 565330 | EATON CETOP KDG4V-5-33C50N-Z-MU-H7-30 | $2,677.10 | Out of Stock | | |
| 565463 | EATON CETOP KFDG4V5-2C70NZ-MU1-H7-20 | $3,946.60 | In Stock | | |
| 616768 | EATON CETOP DG4V5-2A-JMU-H6-20 | $730.80 | In Stock | | |
| 616769 | EATON CETOP DG4V5-2A-MU-A6-20 | $730.80 | In Stock | | |
| 616770 | EATON CETOP DG4V5-2A-JMU-G6-20 | $730.80 | In Stock | | |
| 616776 | EATON CETOP DG4V5-2C-JMU-H6-20 | $834.70 | In Stock | | |
| 616777 | EATON CETOP DG4V5-2C-MU-A6-20 | $834.70 | Out of Stock | | |
| 616778 | EATON CETOP DG4V5-2C-JMU-G6-20 | $834.70 | In Stock | | |
| 616780 | EATON CETOP DG4V5-6C-JMU-H6-20 | $834.70 | In Stock | | |
| 616781 | EATON CETOP DG4V5-6C-MU-A6-20 | $834.70 | In Stock | | |
| 616782 | EATON CETOP DG4V5-6C-JMU-G6-20 | $834.70 | In Stock | | |
| 616784 | EATON CETOP DG4V5-8C-JVMU-H6-20 | $834.70 | In Stock | | |
| 616785 | EATON CETOP DG4V5-8C-JVMU-A6-20 | $834.70 | In Stock | | |
| 616786 | EATON CETOP DG4V5-8C-JVMU-G6-20 - 829AN00104A | $834.70 | In Stock | | |
| 616787 | EATON CETOP DG4V5-8C-JVMU-C6-20 | $834.70 | Out of Stock | | |
| 616788 | EATON CETOP DG4V5-0C-JMU-H6-20 | $834.70 | In Stock | | |
| 616789 | EATON CETOP DG4V5-0C-MU-A6-20 | $759.50 | Out of Stock | | |
| 616790 | EATON CETOP DG4V5-0C-JMU-G6-20 | $834.70 | In Stock | | |
| 616938 | EATON CETOP DG4V5-2AL-MU-A6-20 | $730.80 | In Stock | | |
| 616941 | EATON CETOP DG4V5-2B-MU-A6-20 | $730.80 | Out of Stock | | |
| 616946 | EATON CETOP DG4V5-0A-MU-A6-20 | $730.80 | Out of Stock | | |
| 616956 | EATON CETOP DG4V5-0A-MU-H6-20 | $730.80 | Out of Stock | | |
| 616957 | EATON CETOP DG4V5-0A-MU-G6-20 | $730.80 | In Stock | | |
| 638590 | EATON CETOP DG4V5-2BL-JMU-G6-20 | $730.80 | Out of Stock | | |
| 638873 | EATON BOLT KIT CETOP 5 M6 x 80MM | $57.50 | Out of Stock | | |
| 638972 | EATON CETOP DG4V5-2B-JMU-H6-20 | $730.80 | Out of Stock | | |
| 639345 | EATON CETOP DG4V5-6B-JMU-H6-20 | $730.80 | Out of Stock | | |
| 639373 | EATON CETOP DG4V5-6BL-MU-A6-20 | $730.80 | Out of Stock | | |
| 639437 | EATON CETOP DG4V5-0C-JMU-P6-20 | $834.70 | Out of Stock | | |
| 639598 | EATON CETOP DG4V5-0B-JMU-G6-20 | $730.80 | Out of Stock | | |
| 639609 | EATON CETOP DG4V5-6C-MU-ED6-20 | $834.70 | Out of Stock | | |
| 639610 | EATON CETOP DG4V5-2C-MU-ED6-20 | $834.70 | In Stock | | |
| 639750 | EATON CETOP DG4V5-2AL-JMU-G6-20 | $730.80 | Out of Stock | | |
| 639844 | EATON CETOP DG4V5-6BL-JMU-H6-20 | $730.80 | Out of Stock | | |
| 639926 | EATON CETOP DG4V5-8C-JVMU-EK6-20 | $834.70 | Out of Stock | | |
| 639937 | EATON CETOP DG4V5-8B-JMU-H6-20 | $730.80 | Out of Stock | | |
| 639943 | EATON CETOP DG4V5-2B-MU-EK6-20 | $730.80 | Out of Stock | | |
| 709512 | EATON CETOP DG4V5-2AL-JMU-H6-20 | $730.80 | Out of Stock | | |
| 709623 | EATON CETOP DG4V5-2BL-JMU-H6-20 | $730.80 | In Stock | | |
| 719702 | EATON CETOP DG4V5-8C-JVNU-P6-20 | $759.50 | Out of Stock | | |
| 720011 | EATON CETOP DG4V5-6B-MU-ED6-20 | $730.80 | Out of Stock | | |
| 720201 | EATON CETOP DG4V5-2A-MU-EK6-20 | $730.80 | Out of Stock | | |
| 720243 | EATON CETOP DG4V5-2AL-MU-ED6-20 | $730.80 | Out of Stock | | |
| 720378 | EATON CETOP DG4V5-0AL-MU-H6-20 | $730.80 | Out of Stock | | |
| 720421 | EATON CETOP DG4V5-0A-MU-ED6-20 | $730.80 | Out of Stock | | |
| 720498 | EATON CETOP DG4V5-8B-JMU-G6-20 | $730.80 | Out of Stock | | |
| 869768 | EATON CETOP DG4V5-0BL-MU-ED6-20 | $730.80 | Out of Stock | | |
| 926845 | EATON 8" SPOOL DG5SH8 | $1,201.70 | Out of Stock | | |
| 991024 | EATON CETOP DG4V5-0C-MU-EK6-20 | $834.70 | Out of Stock | | |
| 991201 | EATON CETOP DG4V5-0C-MU-ED6-20 | $834.70 | In Stock | | |
| 991249 | EATON CETOP DG4V5-8C-JVMU-ED6-20 | $834.70 | In Stock | | |
| 991270 | EATON CETOP DG4V5-2A-MU-ED6-20 | $730.80 | In Stock | | |
| 991271 | EATON CETOP DG4V5-0B-MU-ED6-20 | $730.80 | Out of Stock | | |
| 991313 | EATON CETOP DG4V5-0AL-MU-A6-20 | $730.80 | Out of Stock | | |
| 991371 | EATON CETOP DG4V5-6B-JMU-G6-20 | $730.80 | Out of Stock | | |
| 991421 | EATON CETOP DG4V5-6B-MU-A6-20 | $730.80 | Out of Stock | | |
| 992690 | EATON CETOP DG4V5-2B-MU-ED6-20 | $730.80 | Out of Stock | | |
| 5996181-001 | EATON CETOP KBFDG4V5-33C50N-ZM1PE7H7-11 | $6,754.50 | Out of Stock | | |
| E04195 | EATON CETOP DG4V5-6BL-MU-ED6-20 | $664.40 | Out of Stock | | |