Home

/

Eaton / Vickers Cetop 8
Eaton / Vickers Cetop 8
DG5S-H8 Series Features
Up to 530 lpm and 310 bar. Consult Hydraulic Specialties for recommended pressure and flow characteristics.
International standard interface. The valve mounting face conforms to ISO 4401, size 08 and is compatible with related international standards.
Moulded coils for maximum insulating properties, which are impervious to dirt and moisture.
Plug in solenoid for ease of maintenance.
Indicating signal lights are standard.
Change of pilot and drain easy to accomplish by plugging or unplugging.
Spool is designed to avoid creating jet path or turbulence under high pressure and large flow operation.
Cetop 8
Model

Description

Max. Flow

lpm

Max. Press.

bar

DG5S-H8-2-A-MU-***-50

Single solenoid, 2 position

530

310

DG5S-H8-*-C-MU-***-50

Double solenoid, 3 position

530

310
* - Spool type - Click here to view Eaton / Vickers Cetop spool types
** - Solenoid position
*** - Coil voltage
List price does not include Hirschman (DIN) plugs and sub-plate bolt kit
Maximum tank port pressure is 310 bar for external drain, and 210 bar for internal drain - consult Hydraulic Specialties
A back pressure check valve for the internal pilot version is needed on the tank port - consult Hydraulic Specialties
A full range of high and low pressure sub-plates are available in single or multiple station - consult Hydraulic Specialties
788246

Sub-plate, 1 1/4" BSP, rear ported

791551

Cetop 8 bolt kit

694411

Pilot choke kit

464125

70mm bolt kit for pilot choke

710775

Standard DIN connector plug - Black

710776

Standard DIN connector plug - Grey

ISOL-30R

10-50V AC/DC DIN connector plug with LED

ISOL-80R

70-250V AC/DC DIN connector plug with LED

ISOL-30REC

DIN rectifier plug with LED – 24V AC to DC
Downloads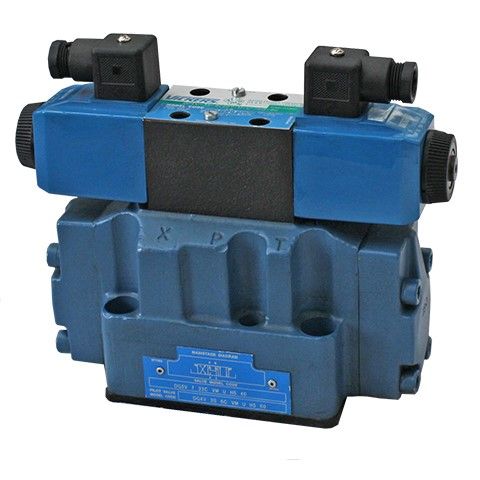 | Code | Product Name | Price | Stock Availability | Quantity | Enquire |
| --- | --- | --- | --- | --- | --- |
| 02-108327 | EATON CETOP DG5SH8-8C-T-40-EN55 | $1,611.80 | Out of Stock | | |