Haldex Gear Pumps
Description
2 volume High/Low hydraulic pumps are compact, two stage, external gear pumps designed for use at elevated pressures. They are ideal for press-type applications (such as a log splitter, press, machine tools) requiring fast approach/retract speeds and slower peak actuator work speeds because of horsepower limitations or safety constraints.
Specifications
Model

Displacement

Max. Pressure

Max. Speed

High Pressure Gear Displ.

Low Pressure Gear Displ.

cc/rev

cc/rev

bar

rpm

1300159

3.2

8.5

207

4000

1300487

4.2

12.7

207

4000

1300488

7.6

15.2

207

4000
Unloaded adjustment 27-62 bar on all pumps except the 1300488 and 1300489, which is 27-48 bar.
NB:Add sizes together for maximum low-pressure flow.
Pressures and speeds shown are maximums.
Downloads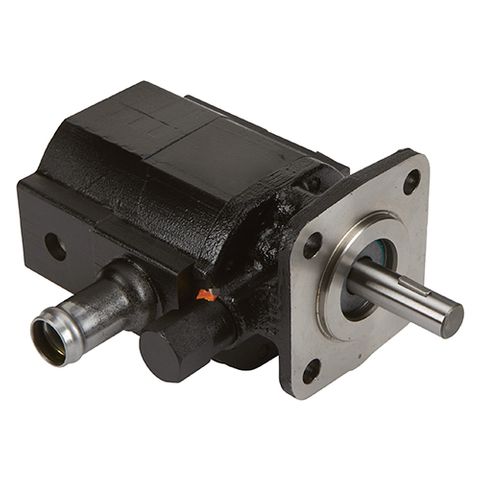 | Code | Product Name | Price | Stock Availability | Quantity | Enquire |
| --- | --- | --- | --- | --- | --- |
| 1300159 | HALDEX HILO PUMP 3.08 CC + 8.47 CC | $559.10 | In Stock | | |
| 1300340 | HALDEX SEAL KIT HILO PUMP 159-487 | $86.60 | In Stock | | |
| 1300380 | HALDEX PUMP 2.11 CC FOR 1300382 | $660.30 | In Stock | | |
| 1300381 | HALDEX PUMP 3.18 CC FOR 1300383 | $660.30 | In Stock | | |
| 1300484 | HALDEX HILO PUMP 1.06 CC + 6.4 CC | $583.90 | In Stock | | |
| 1300485 | HALDEX HILO PUMP 3.18 CC + 6.36 CC | $583.90 | In Stock | | |
| 1300487 | HALDEX HILO PUMP 4.24 CC + 12.8 CC | $559.10 | In Stock | | |
| 1300488 | HALDEX HILO PUMP 7.6 CC + 15.2 CC | $1,329.60 | In Stock | | |
| 1300489 | HALDEX HILO PUMP 7.6 CC + 22.9 CC | $1,374.60 | In Stock | | |
| 1320032 | HALDEX PUMP GC 2.12 CC | $777.20 | In Stock | | |
| 1320760 | HALDEX PUMP GC 4.24 CC | $834.70 | In Stock | | |
| 1321729 | HALDEX PUMP GC 3.18 CC | $798.60 | In Stock | | |
| 2300259 | HALDEX SEAL KIT GC HILO 488 & 489 OLD STYLE | $123.80 | In Stock | | |
| 2300696 | HALDEX SEAL KIT GC PUMP W/CV & RV | $173.30 | In Stock | | |
| 2992024 | HALDEX SEAL KIT GC HILO 488 & 489 NEW STYLE | $77.00 | In Stock | | |
| 5200001 | HALDEX SEAL KIT W1500 PUMPS | $270.00 | In Stock | | |
| 5600001 | HALDEX SEAL KIT W300 PUMPS | $242.30 | In Stock | | |