Eaton H D Motors
Description
Piston Motors – Fixed Displacement H.D. Series – Features & Benefits
• High strength cast iron housings – provide greater noise damping and wall strength.
• Cartridge shaft seal – lends itself to easy serviceability. Mechanical face seal design tolerates high speed and high case pressures.
• Pistons – have long engagement with cylinder bore resulting in low leakage.
• Fixed clearance slipper hold down – on Models 39 through 64 allows operation at high speed and reduces friction.
• End cover – large passages minimises losses. Both side and rear ports are available on Models 39 through 64 fixed motors.
Specifications
| | | | | | | |
| --- | --- | --- | --- | --- | --- | --- |
| Model | | 39 | 46 | 54 | 64 | 76 |
| Displacement | cc/rev | 63.7 | 75.3 | 89.1 | 105.5 | 124.8 |
| Max. Speed @ 18° Cam Angle | rpm | 4160 | 4160 | 3720 | 3720 | 2775 |
| Max. Flow | lpm | 231 | 332 | 337 | 409 | 371 |
| Max. Torque** | Nm | 397 | 469 | 556 | 656 | 781 |
| Press. ∆bar | bar | 240 | 240 | 240 | 240 | 240 |
| Power Output | kW | 125 | 150 | 155 | 185 | 164 |

* At 15.5° cam angle
** Maximum output torque is measured @ 415 bar
Downloads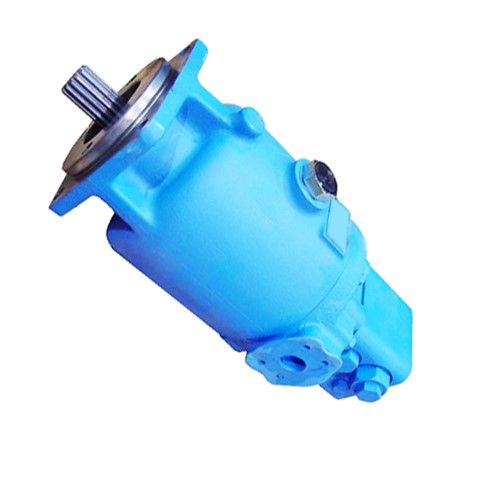 | Code | Product Name | Price | Stock Availability | Quantity | Enquire |
| --- | --- | --- | --- | --- | --- |
| 134-0100-001 | EATON MOTOR ME 6.04 CID/99 CC | $5,475.20 | Out of Stock | | |
| 134-0100-002 | EATON MOTOR ME 6.04 CID/99 CC | $5,475.20 | Out of Stock | | |
| 134-0175-001 | EATON MOTOR ME 10.7 CID/175.37 CC | $9,143.00 | Out of Stock | | |
| 134-0300-002 | EATON MOTOR ME 18.55 CID/304 CC | $12,712.90 | Out of Stock | | |
| 134-0350-002 | EATON MOTOR ME 21.3 CID/349 CC | $10,320.90 | Out of Stock | | |
| 3330-001 | EATON HD FIXED MOTOR 54 CC | $6,111.00 | Out of Stock | | |
| 3331-004 | EATON HD FIXED MOTOR 54 CC | $6,111.00 | Out of Stock | | |
| 3333-001 | EATON HHD333314AB 1B1K1K00000B | $6,080.10 | Out of Stock | | |
| 3333-004 | EATON HHD333321AB 1B1K1K00000B | $6,080.10 | Out of Stock | | |
| 3333-087 | EATON HHD333314BH 1E0000B0000B | $6,080.10 | Out of Stock | | |
| 3933-001 | EATON HHD393314AB 1B1M1M00000B | $6,412.40 | In Stock | | |
| 3933-002 | EATON HHD393321AB 1B1M1M00000B | $6,444.30 | Out of Stock | | |
| 3933-026 | EATON HD FIXED MOTOR 64 CC | $6,444.30 | Out of Stock | | |
| 3941-000 | EATON HD TRANSMISSION PUMP 64 CC | $10,303.90 | Out of Stock | | |
| 4633-001 | EATON HHD463321AB 1B1K1K00000B | $6,797.90 | Out of Stock | | |
| 4633-002 | EATON HHD463314AB 1B1K1K00000B | $6,764.90 | Out of Stock | | |
| 4633-051 | EATON HD FIXED MOTOR 4.6 CID/75 CC | $6,797.90 | Out of Stock | | |
| 4633-057 | EATON HHD463314AB 1B3K3K00000B | $6,764.90 | Out of Stock | | |
| 4633-132 | EATON HHD463321AG 1B0000D00A0B | $6,764.90 | Out of Stock | | |
| 5433-003 | EATON HHD543321AB 1B1M1M00000B | $7,518.90 | Out of Stock | | |
| 5433-005 | EATON HHD543314AB 1B1K1K00000B | $7,481.60 | In Stock | | |
| 6433-002 | EATON HHD643314BA 1B1K1K00000B | $8,342.20 | In Stock | | |
| 6433-022 | EATON HHD643306AA 1B3M3M00000B | $8,382.60 | Out of Stock | | |
| 7630-014 | EATON HD FIXED MTR 7.6 CID/125 CC | $10,128.20 | Out of Stock | | |
| 7640-013 | EATON ACE764013MAB1B 1K1KSAG00000B0A | $18,220.00 | Out of Stock | | |
| 7640-017 | EATON ACE764027GAB1B 3M3MRBAH0022B0A | $17,909.00 | In Stock | | |
| ME1300AP | EATON ME PISTON MOTOR 14T SHAFT | $13,871.60 | In Stock | | |