Home

/

Hydraforce Electronic Controls
Hydraforce Electronic Controls
Description
Hydraforce Programmable Valve Drivers - Coil & Remote Mounted
The CE-qualified, compact plug-in style, microprocessor based, valve driver designed for use in hydraulic proportional valve applications.
Configurable to drive either one or two coils using SAE J1939 CAN input or an independent voltage, current, or resistance signal. The EVDR-0201 is designed to proportionally control one or two coils to a user-defined metering profile

Hydraforce Electronic Control Units (ECU)
CoreTek ECUs are general-purpose programmable controllers that can be used as stand-alone controllers or integrated with other CAN networked devices. These controllers are designed to withstand the environmental demands of mobile off-highway equipment applications. They feature flexible input and output configuration and are capable of driving up to 3.0 amps per output pin.

Hydraforce Displays
The Opus A3F and A3S Wachendorff display units are cost-efficient, rugged operator control panels for use on heavy-duty vehicles and work machines that must operate outdoors in harsh conditions. They are fully equipped with an encoder, three hard and eight soft-function keys, integrated buzzer, RS232 and USB ports, and CAN bus. The A3F (full-featured) unit has analog/digital inputs, digital outputs, Ethernet and video connections for use with a camera to monitor process operations.

Hydraforce Sensors
Accurate sensors designed for off-road applications. These temperature sensors are thermistor style with padded resistors. Pressure sensors have 1% total error band accuracy, are IP67 rated.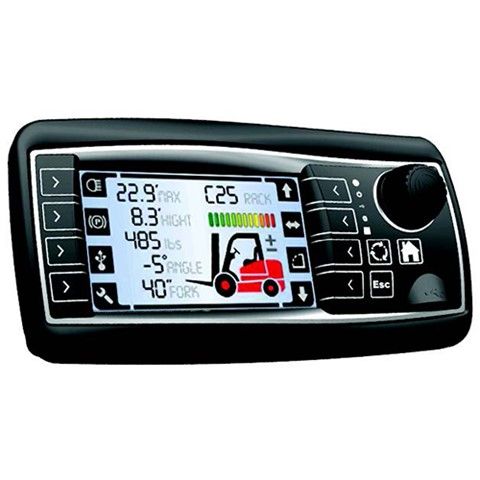 | Code | Product Name | Price | Stock Availability | Quantity | Enquire |
| --- | --- | --- | --- | --- | --- |
| 4000072 | HYDRAFORCE ELECTRONIC CONTROLLER SOFT SHIFT 2000mA | $549.40 | In Stock | | |
| 4000133 | HYDRAFORCE ELECTRONIC CONTROLLER PWM 2000mA METAL BOX | $1,101.50 | In Stock | | |
| 4000144 | HYDRAFORCE ELECTRONIC CONTROLLER PWM PCB BOARD 2000 mA | $723.00 | In Stock | | |
| 4000165 | HYDRAFORCE ELECTRONIC CONTROLLER 0-10VDC DIN COIL MOUNT 1200mA | $821.10 | Out of Stock | | |
| 4000167 | HYDRAFORCE ELECTRONIC CONTROLLER | $821.10 | Out of Stock | | |
| 4000169 | HYDRAFORCE ELECTRONIC CONTROLLER 4-20mA DIN COIL MOUNT 1200mA | $821.10 | Out of Stock | | |
| 4000182 | HYDRAFORCE ELECTRONIC CONTROLLER 0-10VDC METAL BOX | $917.20 | In Stock | | |
| 4000194 | HYDRAFORCE ELECTRONIC CONTROLLER PWM PCB BOARD 1200 mA | $723.00 | In Stock | | |
| 4000196 | HYDRAFORCE ELECTRONIC CONTROLLER PWM PCB BOARD 600 mA | $723.00 | In Stock | | |
| 4000226 | HYDRAFORCE ELECTRONIC CONTROLLER SOFT SHIFT 650mA | $549.40 | In Stock | | |
| 4000245 | HYDRAFORCE ELECTRONIC CONTROLLER EVDR4 | $1,699.30 | In Stock | | |
| 4000343 | HYDRAFORCE ELECTRONIC CONTROLLER ECU-3233A | $10,454.30 | In Stock | | |
| 4000350 | HYDRAFORCE ELECTRONIC CONTROLLER ECU-0809 | $1,921.80 | In Stock | | |
| 4000351 | HYDRAFORCE ELECTRONIC CONTROLLER ECU-0710 | $2,043.90 | In Stock | | |
| 4000355 | HYDRAFORCE ELECTRONIC CONTROLLER ECU-2032 | $3,123.30 | In Stock | | |
| 4000356 | HYDRAFORCE ELECTRONIC CONTROLLER ECU-2820 | $3,123.30 | In Stock | | |
| 4000360 | HYDRAFORCE AMPSEAL CONNECTOR 23 PIN BLACK | $99.40 | In Stock | | |
| 4000361 | HYDRAFORCE AMPSEAL CONNECTOR 23 PIN GREY | $99.40 | In Stock | | |
| 4000362 | HYDRAFORCE AMPSEAL CONNECTOR 23 PIN BLUE | $99.40 | In Stock | | |
| 4000363 | HYDRAFORCE AMPSEAL CONNECTOR 8 PIN BLACK | $46.70 | In Stock | | |
| 4000369 | HYDRAFORCE AMPSEAL SOCKETS GOLD (100 PKT) | $441.30 | In Stock | | |
| 4000370 | HYDRAFORCE AMPSEAL SEALING PLUGS 100 PKT | $106.60 | In Stock | | |
| 4000371 | HYDRAFORCE ADAPTOR USB-CAN | $3,093.00 | Out of Stock | | |
| 4000372 | HYDRAFORCE MEASUREMENT ADAPTOR | $3,798.50 | In Stock | | |
| 4000381 | HYDRAFORCE AMPSEAL CONNECTOR 35 PIN | $99.40 | In Stock | | |
| 4000383 | HYDRAFORCE ELECTRONIC CONTROLLER ECU-2820A | $3,494.40 | In Stock | | |
| 4000387 | HYDRAFORCE CAN PANEL 7-BUTTON ECBP-7 | $638.40 | In Stock | | |
| 4000400 | HYDRAFORCE DISPLAY A3S BASIC LANDSCAPE | $1,522.50 | In Stock | | |
| 4000401 | HYDRAFORCE DISPLAY A3 FULL LANDSCAPE | $3,024.10 | In Stock | | |
| 4000403 | HYDRAFORCE POWER CABLE A3 | $1,357.30 | Out of Stock | | |
| 4000405 | HYDRAFORCE MOUNTING KIT A3 | $416.30 | In Stock | | |
| 4000406 | HYDRAFORCE MOUNTING KIT DASHBOARD A3 | $160.90 | In Stock | | |
| 4000408 | HYDRAFORCE DISPLAY A6 FULL LANDSCAPE | $10,331.50 | Out of Stock | | |
| 4000411 | HYDRAFORCE VIDEO CABLE 1M | $623.90 | In Stock | | |
| 4000412 | HYDRAFORCE A6 MOUNTING KIT | $569.80 | In Stock | | |
| 4000415 | HYDRAFORCE CONNECTOR AMPSEAL 26-PIN | $84.80 | In Stock | | |
| 4000654 | HYDRAFORCE PRESSURE SENSOR 414 BAR 0-5 VDC DEUTSCH DT04 3 PIN | $489.00 | Out of Stock | | |
| 4000655 | HYDRAFORCE PRESSURE SENSOR 35 BAR 9-36 VDC DEUTSCH DT04 3 PIN | $555.10 | In Stock | | |
| 4000657 | HYDRAFORCE PRESSURE SENSOR 207 BAR 9-36 VDC DEUTSCH DT04 3 PIN | $555.10 | In Stock | | |
| 4000659 | HYDRAFORCE PRESSURE SENSOR 414 BAR 9-36 VDC DEUTSCH DT04 3 PIN | $555.10 | In Stock | | |
| 4000698 | HYDRAFORCE CONFIGURATION CABLE EVDR4 | $607.70 | In Stock | | |
| 4001417 | HYDRAFORCE CONNECTOR DEUTSCH DT06-2S | $33.70 | Out of Stock | | |
| 4001605 | HYDRAFORCE CONFIGURATION CABLE EVDR1 | $1,564.70 | Out of Stock | | |
| 4001952 | HYDRAFORCE CONNECTOR KIT DT06-3S GOLD | $37.90 | In Stock | | |
| 4001953 | HYDRAFORCE CONNECTOR KIT DT06-4S GOLD | $54.10 | In Stock | | |
| 4001954 | HYDRAFORCE CONNECTOR KIT DT06-6S GOLD | $84.80 | In Stock | | |
| 4001955 | HYDRAFORCE CONNECTOR KIT DT06-8SA GOLD | $92.00 | In Stock | | |
| 4001956 | HYDRAFORCE CONNECTOR KIT DT06-12SA GOLD | $122.70 | In Stock | | |
| 4001965 | HYDRAFORCE CONNECTOR KIT DT06-12SB GOLD | $144.80 | In Stock | | |
| 4001970 | HYDRAFORCE CONNECTOR KIT DTM06-2S | $41.00 | In Stock | | |
| 4001976 | HYDRAFORCE CONNECTOR KIT DTM06-12A GREY | $100.90 | In Stock | | |
| 4001977 | HYDRAFORCE CONNECTOR KIT DTM06-12B BLACK | $106.60 | In Stock | | |
| 4002723 | HYDRAFORCE ELECTRONIC CONTROLLER ECU-2415A | $3,494.40 | In Stock | | |
| 4002724 | HYDRAFORCE ELECTRONIC CONTROLLER ECU-0814A | $1,998.50 | In Stock | | |
| 4002749 | HYDRAFORCE DISPLAY A6 FULL LANDSCAPE GEN2 | $10,331.50 | In Stock | | |
| 4204500 | HYDRAFORCE ELECTRONIC CONTROLLER EFDR1 | $935.00 | Out of Stock | | |
| 4204700 | HYDRAFORCE ELECTRONIC CONTROLLER EVDR-0201A | $935.00 | In Stock | | |
| 4204710 | HYDRAFORCE ELECTRONIC CONTROLLER EFDR-0201A | $935.00 | In Stock | | |
| 4204740 | HYDRAFORCE ELECTRONIC CONTROLLER ECDR-0201A | $949.40 | In Stock | | |
| 4204800 | HYDRAFORCE ELECTRONIC CONTROLLER EVDR-0101A | $531.80 | In Stock | | |
| 4208560 | HYDRAFORCE ELECTRONIC CONTROLLER ECDR-0506A-001 | $2,196.70 | In Stock | | |
| DTLED12V | CONNECTOR DEUTSCH DT06-2S DETECTOR 12V | $42.20 | Out of Stock | | |
| DTLED24V | CONNECTOR DEUTSCH DT06-2S DETECTOR 24V | $42.20 | In Stock | | |