Home

/

Hyspecs Excavator Valving
Hyspecs Excavator Valving
Description
Introduction
Hyspecs manufactures custom designed cartridge valve manifolds specifically to control excavator attachments and meet safety standards. Hand and foot controls can be added to the excavator to effectively control new attachments.

Features
Compact design allows valving to be positioned in confined spaces where others do not fit.
Manifold design minimises oil leakage paths
Reliable low current draw solenoids provide millions of cycles lifetime
Hardened spools and cages for longer life
All work ports are located on single block face
Can be operated continuously in temperatures up to 100°C without challenging the coils insulation.
Integral pressure reducing/relieving valves guard against pressure spikes and thermal shock.
Low pressure drops

Material
Aluminium or steel for pressures up to 240 bar and 350 bar respectively.
All steel blocks are nickel plated to protect your investment.
Downloads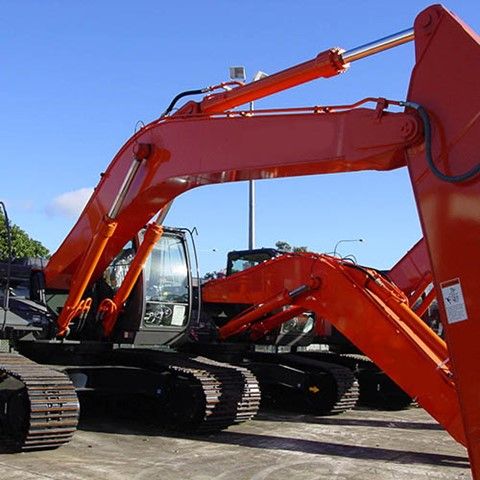 | Code | Product Name | Price | Stock Availability | Quantity | Enquire |
| --- | --- | --- | --- | --- | --- |
| A/HS4541P6CRS | HYSPECS SAFEX VALVE ASSEMBLY 3/8 BSPP | $945.00 | In Stock | | |
| A/HS4542P8CRS | HYSPECS SAFEX VALVE ASSEMBLY 1/2 BSPP | $995.00 | Out of Stock | | |
| A/HS4543P12CRS | HYSPECS SAFEX VALVE ASSEMBLY 3/4 BSPP | $1,125.00 | In Stock | | |
| A/HS4543U21CRS | HYSPECS SAFEX VALVE ASSEMBLY 1 5/16 UNO | $946.40 | Out of Stock | | |
| A/HS4544P16CRS | HYSPECS SAFEX VALVE ASSEMBLY 1 BSPP | $1,376.00 | Out of Stock | | |
| A/HS4847BCRS | HYSPECS SAFEX VALVE ASSEMBLY SAE 3/4 VOLVO LOADER | $1,456.50 | Out of Stock | | |
| A/HS4848CDRS | HYSPECS SAFEX VALVE ASSEMBLY SAE 1 C62 HF DUAL CPBD VOLVO LOADER | $2,162.00 | Out of Stock | | |
| A/HS4853CCRS | HYSPECS MANIFOLD SAFEX SAE 1 CAT STEEL (WAS A/HS4843CCRS) | $1,706.90 | Out of Stock | | |
| A/HS4856CDRS | HYSPECS MANIFOLD SAFEX SAE 1 CODE 61 DUAL CPBD STEEL | $1,997.00 | In Stock | | |
| A/HS4881ACRS | HYSPECS SAFEX VALVE ASSEMBLY SAE 1/2 | $1,090.00 | Out of Stock | | |
| A/HS4882BCRS | HYSPECS SAFEX VALVE ASSEMBLY SAE 3/4 LF | $1,350.00 | Out of Stock | | |
| A/HS4883BCRS | HYSPECS SAFEX VALVE ASSEMBLY SAE 3/4 MF | $1,485.00 | Out of Stock | | |
| A/HS4883BCRS_V2 | HYSPECS SAFEX VALVE ASSEMBLY SAE 3/4 MF - C62 VERTICAL | $1,485.00 | Out of Stock | | |
| A/HS4884BCRS | HYSPECS SAFEX VALVE ASSEMBLY SAE 3/4 HF | $1,670.00 | In Stock | | |
| A/HS4885BCRS | HYSPECS SAFEX VALVE ASSEMBLY SAE 3/4 MF LONG TAIL | $1,560.00 | Out of Stock | | |
| A/HS4886CCRS | HYSPECS SAFEX VALVE ASSEMBLY SAE 1 CODE 61 MF | $1,605.00 | In Stock | | |
| A/HS4887CCRS | HYSPECS SAFEX VALVE ASSEMBLY SAE 1 CODE 62 MF | $1,605.00 | Out of Stock | | |
| A/HS4888CCRS | HYSPECS SAFEX VALVE ASSEMBLY SAE 1 CODE 62 HF | $1,900.00 | In Stock | | |
| A/HS4889CCRS | HYSPECS SAFEX VALVE ASSEMBLY SAE 1 CODE 62 LONG TAIL MF | $1,715.00 | In Stock | | |
| A/HS4890DCRS | HYSPECS SAFEX VALVE ASSEMBLY SAE 1.25 CODE 62 HF | $1,971.20 | In Stock | | |
| A/HS4891ECRS | HYSPECS SAFEX VALVE ASSEMBLY SAE 1.5 CODE 62 HF | $2,076.50 | In Stock | | |
| A/HSPH4896BCRS | HYSPECS SAFEX VALVE ASSEMBLY KOMATSU 5/8 FLANGE MF | $1,380.50 | Out of Stock | | |
| HS1075S | HYSPECS SPACER SAFEX CODE 61 SAE 3/4 | $163.10 | Out of Stock | | |
| HS1100S | HYSPECS SPACER SAFEX CODE 61 SAE 1 | $174.40 | Out of Stock | | |
| HS1125S | HYSPECS SPACER SAFEX CODE 61 SAE 1 1/4 | $185.60 | Out of Stock | | |
| HS2075S | HYSPECS SPACER SAFEX CODE 62 SAE 3/4 | $163.10 | Out of Stock | | |
| HS2100S | HYSPECS SPACER SAFEX CODE 62 SAE 1 | $174.40 | Out of Stock | | |
| HS2125S | HYSPECS SPACER SAFEX CODE 62 SAE 1 1/4 | $185.60 | Out of Stock | | |
| HS4541P6CRS | HYSPECS MANIFOLD SAFEX BSPP 3/8 STEEL | $413.90 | In Stock | | |
| HS4542P8CRS | HYSPECS MANIFOLD SAFEX BSPP 1/2 STEEL | $457.80 | Out of Stock | | |
| HS4543P12CRS | HYSPECS MANIFOLD SAFEX BSPP 3/4 STEEL | $545.60 | Out of Stock | | |
| HS4543U21CRS | HYSPECS MANIFOLD SAFEX UNO 1 5/16 STEEL | $545.60 | In Stock | | |
| HS4847BCRS | HYSPECS MANIFOLD SAFEX SAE 3/4 VOLVO LOADER STEEL | $961.80 | In Stock | | |
| HS4848CDRS | HYSPECS MANIFOLD SAFEX SAE 1 DUAL CPBD VOLVO LOADER STEEL | $1,394.90 | In Stock | | |
| HS4849BCRS | HYSPECS MANIFOLD SAFEX SAE 3/4 LONG TAIL STEEL | $983.20 | Out of Stock | | |
| HS4853CCRS | HYSPECS MANIFOLD SAFEX SAE 1 CAT STEEL | $1,245.30 | Out of Stock | | |
| HS4881ACRS | HYSPECS MANIFOLD SAFEX SAE 1/2 STEEL | $596.20 | In Stock | | |
| HS4882BCRS | HYSPECS MANIFOLD SAFEX SAE 3/4 LF STEEL | $787.40 | In Stock | | |
| HS4883BCRS | HYSPECS MANIFOLD SAFEX SAE 3/4 MF STEEL | $832.40 | In Stock | | |
| HS4883BCRS_V2 | HYSPECS MANIFOLD SAFEX SAE 3/4 MF STEEL - C62 VERTICAL | $832.40 | Out of Stock | | |
| HS4884BCRS | HYSPECS MANIFOLD SAFEX SAE 3/4 HF STEEL | $989.90 | Out of Stock | | |
| HS4885BCRS | HYSPECS MANIFOLD SAFEX SAE 3/4 MF LONG TAIL STEEL | $905.50 | In Stock | | |
| HS4886CCRS | HYSPECS MANIFOLD SAFEX SAE 1 CODE 61 MF STEEL | $933.60 | In Stock | | |
| HS4887CCRS | HYSPECS MANIFOLD SAFEX SAE 1 CODE 62 MF STEEL | $933.60 | In Stock | | |
| HS4888CCRS | HYSPECS MANIFOLD SAFEX SAE 1 HF STEEL | $1,091.20 | In Stock | | |
| HS4889CCRS | HYSPECS MANIFOLD SAFEX SAE 1 MF LONG TAIL STEEL | $1,012.30 | In Stock | | |
| HS4890DCRS | HYSPECS MANIFOLD SAFEX SAE 1.25 HF STEEL | $1,169.90 | Out of Stock | | |
| HS4891ECRS | HYSPECS MANIFOLD SAFEX SAE 1.5 HF STEEL | $1,271.10 | Out of Stock | | |
| HS9501P4BP12DG | HYSPECS MANIFOLD PILOT 12V HIRSCH | $948.70 | In Stock | | |
| HS9501P4BP12DL | HYSPECS MANIFOLD PILOT 12V LEADS | $843.40 | In Stock | | |
| HS9501P4BP12ER | HYSPECS MANIFOILD PILOT 12V DEUTSCH | $948.70 | Out of Stock | | |
| HS9501P4BP24DG | HYSPECS MANIFOLD PILOT 24V HIRSCH | $948.70 | In Stock | | |
| HS9501P4BP24DL | HYSPECS MANIFOLD PILOT 24V LEADS | $843.40 | In Stock | | |
| HS9501P4BP24ER | HYSPECS MANIFOLD PILOT 24V DEUTSCH | $948.70 | In Stock | | |
| HS9501P4BPS12DG | HYSPECS MANIFOLD QUICK HITCH 12V HIRSCH | $933.50 | Out of Stock | | |
| HS9501P4BPS12DL | HYSPECS MANIFOLD QUICK HITCH 12V LEADS | $880.90 | Out of Stock | | |
| HS9501P4BPS12ER | HYSPECS MANIFOLD QUICK HITCH 12V DEUTSCH | $933.50 | Out of Stock | | |
| HS9501P4BPS24DG | HYSPECS MANIFOLD QUICK HITCH 24V HIRSCH | $933.50 | Out of Stock | | |
| HS9501P4BPS24DL | HYSPECS MANIFOLD QUICK HITCH 24V LEADS | $880.90 | Out of Stock | | |
| HS9501P4BPS24ER | HYSPECS MANIFOLD QUICK HITCH 24V DEUTSCH | $933.50 | Out of Stock | | |
| HS9501P4BPS_B | HYSPECS MANIFOLD QUICK HITCH STEEL | $356.60 | In Stock | | |
| HS9501P4BP_B | HYSPECS MANIFOLD PILOT | $267.70 | In Stock | | |
| HS9502P4CPS | HYSPECS MANIFOLD TILT (SV08) STEEL | $389.20 | In Stock | | |
| HS9502P4CPS12DG | HYSPECS MANIFOLD TILT (LF) 12V HIRSC | $1,368.70 | Out of Stock | | |
| HS9502P4CPS12DL | HYSPECS MANIFOLD TILT (LF) 12V LEADS | $1,267.00 | Out of Stock | | |
| HS9502P4CPS24DG | HYSPECS MANIFOLD TILT (LF) 24V HIRSCH | $1,368.70 | Out of Stock | | |
| HS9502P4CPS24DL | HYSPECS MANIFOLD TILT (LF) 24V LEADS | $1,267.00 | Out of Stock | | |
| HS9503P4BK | HYSPECS MANIFOLD QUICK HITCH S/A | $356.60 | In Stock | | |
| HS9504EPS12DG | HYSPECS MANIFOLD QUICK HITCH 12V HIRSCH | $2,995.90 | Out of Stock | | |
| HS9504EPS12DL | HYSPECS MANIFOLD QUICK HITCH 12V LEADS | $2,995.90 | Out of Stock | | |
| HS9504EPS24DG | HYSPECS MANIFOLD QUICK HITCH 24V HIRSCH | $2,995.90 | Out of Stock | | |
| HS9504EPS24DL | HYSPECS MANIFOLD QUICK HITCH 24V LEADS | $2,995.90 | Out of Stock | | |
| HS9505P4DPS12DG | HYSPECS MANIFOLD TILT & 5P RV 12V HIRSC | $1,863.60 | Out of Stock | | |
| HS9505P4DPS12DL | HYSPECS MANIFOLD TILT & 5P RV 12V LEADS | $1,793.40 | Out of Stock | | |
| HS9505P4DPS24DG | HYSPECS MANIFOLD TILT & 5P RV 24V HIRSCH | $1,863.60 | Out of Stock | | |
| HS9505P4DPS24DL | HYSPECS MANIFOLD TILT & 5P RV 24V LEADS | $1,793.40 | Out of Stock | | |
| HS9505P4DPS_B | HYSPECS MANIFOLD TILT & 5 PORT RV STEEL | $663.60 | In Stock | | |
| HS9506DPRS_B | HYSPECS MANIFOLD LS TILT & 5 PORT RV STEEL | $568.10 | In Stock | | |
| HS9507FPS | HYSPECS MANIFOLD QUICK HITCH, TILT, THUMB STEEL | $1,310.50 | In Stock | | |
| HS9507FPS12DG | HYSPECS MANIFOLD QUICK HITCH, TILT, THUMB ASSEMBLY 12V HIRSCH | $3,370.30 | Out of Stock | | |
| HS9507FPS12DL | HYSPECS MANIFOLD QUICK HITCH, TILT, THUMB ASSEMBLY 12V LEADS | $3,217.10 | Out of Stock | | |
| HS9507FPS24DG | HYSPECS MANIFOLD QUICK HITCH, TILT, THUMB ASSEMBLY 24V HIRSCH | $3,370.30 | Out of Stock | | |
| HS9507FPS24DL | HYSPECS MANIFOLD QUICK HITCH, TILT, THUMB ASSEMBLY 24V LEADS | $3,217.10 | Out of Stock | | |
| HS9507FPS_B | HYSPECS MANIFOLD QUICK HITCH TILT THUMB STEEL | $1,310.50 | In Stock | | |
| HS9508P4EPS | HYSPECS MANIFOLD QUICK HITCH & TILT 5P STEEL | $933.50 | In Stock | | |
| HS9508P4EPS12DG | HYSPECS MANIFOLD QUICK HITCH & TILT 5P 12V | $2,399.30 | Out of Stock | | |
| HS9508P4EPS24DG | HYSPECS MANIFOLD QUICK HITCH & TILT 5P 24V | $2,399.30 | Out of Stock | | |
| HS9508P4EPS24DL | HYSPECS MANIFOLD QUICK HITCH & TILT 5P 24V LEADS | $2,246.20 | Out of Stock | | |
| HS9508P4EPS_B | HYSPECS MANIFOLD QUICK HITCH & TILT 5P STEEL | $897.60 | Out of Stock | | |
| HS9509P4DPS | HYSPECS MANIFOLD QUICK HITCH & TILT STEEL | $801.30 | In Stock | | |
| HS9509P4DPS24DG | HYSPECS MANIFOLD QUICK HITCH & TILT HIRSCH | $2,058.90 | Out of Stock | | |
| HS9509P4DPS24DL | HYSPECS MANIFOLD QUICK HITCH & TILT 24V LEADS | $1,905.80 | Out of Stock | | |
| HS9510P4AS | HYSPECS MANIFOLD LP QUICK HITCH STEEL | $269.20 | Out of Stock | | |
| HS9510U7AS | HYSPECS MANIFOLD LP QUICK HITCH STEEL | $269.20 | Out of Stock | | |
| HS9512CPRS | HYSPECS MANIFOLD THUMB CONTROL STEEL | $933.50 | In Stock | | |
| HS9512CPRS12VDC | HYSPECS MANIFOLD THUMB CONTROL 12VDC | $1,965.40 | Out of Stock | | |
| HS9512CPRS24VDC | HYSPECS MANIFOLD THUMB CONTROL 24VDC | $1,965.40 | Out of Stock | | |
| HS9513P6HPRF12DG | HYSPECS MANIFOLD QUICK HITCH & THUMB TWO INLETS 12V HIRSCH | $3,348.20 | Out of Stock | | |
| HS9513P6HPRF12DL | HYSPECS MANIFOLD QUICK HITCH & THUMB TWO INLETS 12V LEADS | $3,296.60 | Out of Stock | | |
| HS9513P6HPRF24DG | HYSPECS MANIFOLD QUICK HITCH & THUMB TWO INLETS 12V HIRSCH | $3,348.20 | Out of Stock | | |
| HS9513P6HPRF24DL | HYSPECS MANIFOLD QUICK HITCH & THUMB TWO INLETS 24V LEADS | $3,296.60 | Out of Stock | | |
| HS9513P6HPRFS | HYSPECS MANIFOLD QUICK HITCH & THUMB STEEL | $1,462.30 | Out of Stock | | |
| HS9516P4CPS_B | HYSPECS MANIFOLD TILT (SV10) STEEL | $445.40 | In Stock | | |
| HS9521P6FPMS _B | HYSPECS MANIFOLD FOR LS CT3 WITH PR & DUAL CB STEEL | $672.70 | In Stock | | |
| HS9525P4BP_B12ER | HYSPECS MANIFOLD EXCAVATOR PROPORTIONAL PILOT CONTROL 12VDC DEUTSCH | $960.70 | Out of Stock | | |
| HS9525P4BP_B24ER | HYSPECS MANIFOLD EXCAVATOR PROPORTIONAL PILOT CONTROL 24VDC DEUTSCH | $960.70 | Out of Stock | | |
| HS9526U7C | HYSPECS MANIFOLD EXCAVATOR PATTERN CHANGER HITACHI SV08-47 | $529.90 | In Stock | | |
| HS9527U7C | HYSPECS MANIFOLD EXCAVATOR PATTERN CHANGER HITACHI SV10-47 | $621.20 | In Stock | | |
| HS9528P6EPRS | HYSPECS MANIFOLD LS TILT (MF) WITH X-LINE RV STEEL | $514.80 | Out of Stock | | |
| HSPH4896BCRS | HYSPECS MANIFOLD SAFEX KOMATSU 5/8 FLANGE MF STEEL | $832.40 | Out of Stock | | |
| SC/HSGB6001P6DRS | HYSPECS SOFT CLAMP KIT | $1,535.50 | Out of Stock | | |