Home

/

Brand Proportional Valves
Brand Proportional Valves
Description
Brand SDCF Proportional Series
• Combines the features of a four way control valve, an adjustable full range pressure compensated by-pass flow control valve and a pilot operated pressure relief valve in one package.
• Fine positive metering is possible in both directions with one infinitely variable lever controlling both direction and the amount of flow.
• Amount of flow is proportional to the movement of the lever, and is constant regardless of pressure variations.
• The valves are 207 bar capable & available with 22 lpm, 45 lpm, & 68 lpm rated spools.
• Available with tandem metering, fine metering and open centre spools.
• Ports - Inlet and outlet are 1 1/16" UN O-Ring and work ports are 7/8" UN O-RING.
• Stainless steel spools are standard.
Model

Description

Max. Flow

lpm

Max. Pressure

bar

SDCF120TM184GF1

Single section c/w relief

68 lpm spool

Ball friction detent

68

207
Configuration Options
Fine metering spool - M
Open centre spool - O
22 lpm spool - 6
45 lpm spool - 12
68 lpm spool - 18
Spring centred - S
3 Position ball detent - D
Downloads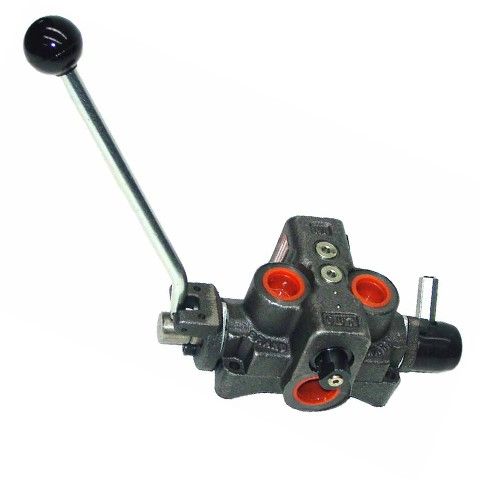 | Code | Product Name | Price | Stock Availability | Quantity | Enquire |
| --- | --- | --- | --- | --- | --- |
| SDCF120M64GS | BRAND VALVE MANUAL PROP. 6 GPM | $948.50 | Out of Stock | | |
| SDCF120M64LF1 | BRAND VALVE MANUAL PROP. 6 GPM | $948.50 | In Stock | | |
| SDCF120M124GF1 | BRAND VALVE MANUAL PROP. 12 GPM | $948.50 | In Stock | | |
| SDCF120M124GS | BRAND VALVE MANUAL PROP. 12 GPM | $876.90 | In Stock | | |
| SDCF120M184GF1 | BRAND VALVE MANUAL PROP. 18 GPM | $948.50 | In Stock | | |
| SDCF120TM64GF1 | BRAND VALVE MANUAL PROP. 6 GPM | $948.50 | In Stock | | |
| SDCF120TM64GS | BRAND VALVE MANUAL PROP. 6 GPM | $948.50 | Out of Stock | | |
| SDCF120TM124GF1 | BRAND VALVE MANUAL PROP. 12 GPM | $948.50 | In Stock | | |
| SDCF120TM124GS | BRAND VALVE MANUAL PROP. 12 GPM | $948.50 | In Stock | | |
| SDCF120TM184GF1 | BRAND VALVE MANUAL PROP. 18 GPM | $948.50 | In Stock | | |
| SDCF120TM184GS | BRAND VALVE MANUAL PROP. 18 GPM | $948.50 | In Stock | | |