Webtec Test Units
Webtec are specialist manufacturers of hydraulic measurement and control products helping to improve the productivity of heavy machinery.
Product Range:
Diagnostic test equipment
Flow condition monitoring
Hydraulic control valves
Test stand Instrumentation
Hyspecs carry a wide range of Webtec products as below. If you can't find the information you're looking for please speak to a Hyspecs Engineer on 0508 497 732 or email hyspecs@hyspecs.co.nz.
For more detailed information download the Webtec product brochure via the pdf link below.
Downloads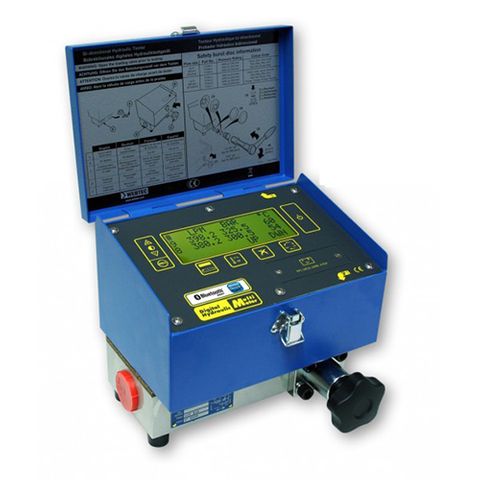 | Code | Product Name | Price | Stock Availability | Quantity | Enquire |
| --- | --- | --- | --- | --- | --- |
| FT5758-01 | WEBTEC FI750-30ABOT FLOW & TEMP INDICATOR 30 LPM | $1,540.80 | In Stock | | |
| FT5758-02 | WEBTEC FI750-60ABOT FLOW & TEMP INDICATOR 60 LPM | $1,540.80 | In Stock | | |
| FT5758-03 | WEBTEC FI750-120ABOT FLOW & TEMP INDICATOR 120 LPM | $1,540.80 | In Stock | | |
| FT5758-22 | WEBTEC FI750-180ABOT FLOW & TEMP INDICATOR 180 LPM | $1,781.70 | In Stock | | |
| FT6068-01 | WEBTEC FI1500-200ABOT FLOW & TEMP INDICATOR 200 LPM | $3,423.00 | Out of Stock | | |
| FT6068-03 | WEBTEC FI1500-400ABOT FLOW & TEMP INDICATOR 400 LPM | $3,423.00 | Out of Stock | | |
| FT9338-2 | WEBTEC DHT402-B-6 DIGITAL HYDRAULIC TESTER 400 LPM | $10,676.00 | Out of Stock | | |
| FT9340-5 | WEBTEC DHT802-S-7-L DIGITAL HYDRAULIC TESTER 800 LPM | $12,592.40 | Out of Stock | | |
| FT9343 | WEBTEC DHCR-6 DIGITAL READ OUT | $4,585.90 | In Stock | | |
| FT9501-05 | WEBTEC LT60-FM-B-B-6 TURBINE FLOW METER | $3,834.80 | Out of Stock | | |
| FT9502-03 | WEBTEC CT150-SR-B-B-6 TURBINE FLOW METER | $4,116.80 | Out of Stock | | |
| FT9502-05 | WEBTEC LT150-FM-B-B-6 TURBINE FLOW METER | $3,834.80 | Out of Stock | | |
| FT9503-03 | WEBTEC CT300-SR-B-B-6 TURBINE FLOW METER | $4,116.80 | Out of Stock | | |
| FT9503-05 | WEBTEC LT300-FM-B-B-6 TURBINE FLOW METER | $3,834.80 | Out of Stock | | |
| FT9504-05 | WEBTEC LT400-FM-B-B-6 TURBINE FLOW METER | $3,834.80 | Out of Stock | | |
| FT9506-03 | WEBTEC CT750-SR-S-B-7 TURBINE FLOW METER | $5,565.00 | Out of Stock | | |
| FT9506-05 | WEBTEC LT800-FM-S-B-7 TURBINE FLOW METER | $4,656.10 | Out of Stock | | |
| FT9508-05 | WEBTEC LT400R-FM-B-B-6 TURBINE FLOW METER | $6,981.70 | Out of Stock | | |
| FT9510-03 | WEBTEC CT750R-SR-S-B-7 TURBINE FLOW METER | $8,897.90 | Out of Stock | | |
| FT9510-05 | WEBTEC LT800R-FM-S-B-7 TURBINE FLOW METER | $8,897.90 | In Stock | | |
| FT9510-24 | WEBTEC CT750R-CAN-S-B-7 TURBINE FLOW METER | $10,298.30 | In Stock | | |
| FT9707-02 | WEBTEC HT402-B-6 ANALOGUE HYDRAULIC TESTER 400 LPM | $9,307.40 | Out of Stock | | |
| FT9967-01 | WEBTEC DHT401-B-6 DIGITAL HYDRAULIC TESTER 400 LPM | $9,307.40 | In Stock | | |
| FT9985-600 | WEBTEC SR-HPM-110-MT-600 DIGITAL PRESSURE GAUGE | $892.50 | In Stock | | |
| FT10040-03 | WEBTEC RFIK120-B-6 MECHANICAL TESTER REV. FLOW 120 LPM | $3,696.80 | In Stock | | |
| FT10040-04 | WEBTEC RFIK30-B-6 MECHANICAL TESTER REV. FLOW 30 LPM | $3,696.80 | Out of Stock | | |
| FT10040-05 | WEBTEC RFIK60-B-6 MECHANICAL TESTER REV. FLOW 60 LPM | $3,696.80 | Out of Stock | | |
| FT10040-09 | WEBTEC RFIK200-B-6 MECHANICAL TESTER REV. FLOW 200 LPM | $3,902.60 | In Stock | | |
| FT10180-15 | WEBTEC HF120-ULTMA-6-B075V FLOWHUB ULTIMATE 3/4 120 LPM 4-20mA | $4,106.20 | Out of Stock | | |
| FT10652 | WEBTEC SR-HPM-4020-05-KIT HPM4020 KIT | $3,902.60 | In Stock | | |
| FT10653 | WEBTEC SR-HPM-4030-05-CAN-KIT HPM4030 KIT | $3,902.60 | Out of Stock | | |
| FT10865-01 | WEBTEC DHM404-B-6 DIGITAL HYDRAULIC MULTIMETER 400 LPM | $10,676.00 | Out of Stock | | |
| WPB3A6HR01 | WEBTEC FLOW MONITOR ALUMINIUM OIL 3/8 0.5 - 4 LPM | $764.00 | Out of Stock | | |
| WPB3A6HR02 | WEBTEC FLOW MONITOR ALUMINIUM OIL 3/8 1 - 8 LPM | $764.00 | In Stock | | |
| WPB3A6HT05 | WEBTEC FLOW MONITOR ALUMINIUM OIL 1/2 2 - 19 LPM | $843.40 | Out of Stock | | |
| WPB3A6HT10 | WEBTEC FLOW MONITOR ALUMINIUM OIL 1/2 4 - 38 LPM | $843.40 | In Stock | | |
| WPB4A6HU25 | WEBTEC FLOW MONITOR ALUMINIUM OIL 3/4 10 - 100 LPM | $1,151.20 | In Stock | | |
| WPB4A6HV40 | WEBTEC FLOW MONITOR ALUMINIUM OIL 1" 15 - 150 LPM | $1,275.10 | In Stock | | |
| WPC3A5HT02 | WEBTEC FLOW MONITOR ALUMINIUM OIL 1/2 2 - 19 LPM | $617.70 | In Stock | | |
| WPC3A5HT05 | WEBTEC FLOW MONITOR ALUMINIUM OIL 1/2 4 - 38 LPM | $617.70 | In Stock | | |