Home

/

Char-Lynn Motors J
Char-Lynn Motors J
Description
J2 Series Features & Benefits
• Integrated check valves helps extend seal life
• Self-lubricating bushing reduces shaft friction
• Lengthened spool valve lands – higher efficiency operation
• More rigid components helps reduce internal leakage
• Shaft seal - withstand high back pressures
• Corrosion protection - hostile environments
Specifications
| | | | | | | |
| --- | --- | --- | --- | --- | --- | --- |
| Displacement | cc/rev | 8.2 | 12.9 | 19.8 | 31.6 | 50.0 |
| Max. Speed* | rpm | 1992 | 1575 | 1043 | 650 | 393 |
| Flow cont. | lpm | 17 | 21 | 21 | 21 | 21 |
| Torque* | Nm | 16 | 25 | 38 | 50 | 62 |
| Pressure ∆bar** | bar | 220 | 220 | 220 | 190 | 150 |
* @ max continuous flow and max. continuous pressure.
** Max peak pressure @ motor inlet port of 220 bar without regard to ∆bar and/or back pressure
ratings
∆bar - true pressure difference between inlet and outlet port.
If a Char-Lynn motor is showing as unavailable please send an enquiry as we may be able to build it from existing stock.
Downloads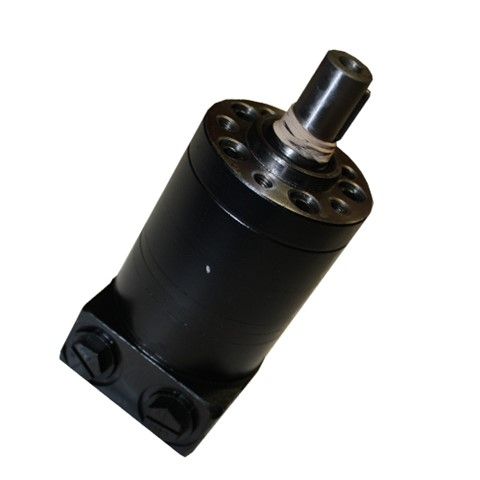 | Code | Product Name | Price | Stock Availability | Quantity | Enquire |
| --- | --- | --- | --- | --- | --- |
| 129-0001-002 | CHAR-LYNN M0J05A01A1000A0B 8.2cc 5 blt 5/8" 9/16" end ports | $697.60 | Out of Stock | | |
| 129-0002-002 | CHAR-LYNN M0J08A01A1000A0B 12.9cc 5 blt 5/8" 9/16" end ports | $697.60 | In Stock | | |
| 129-0003-002 | CHAR-LYNN M0J12A01A1000A0B 19.8cc 5 blt 5/8" 9/16" end ports | $697.60 | Out of Stock | | |
| 129-0004-002 | CHAR-LYNN M0J19A01A1000A0B 31.6cc 5 blt 5/8" 9/16" end ports | $697.60 | In Stock | | |
| 129-0012-002 | CHAR-LYNN M0J19A06A1000A0B 31.6cc 5 blt spline 9/16" end ports | $667.80 | Out of Stock | | |
| 129-0017-002 | CHAR-LYNN M0J05A01D1000A0B 8.2cc 5 blt 5/8" 9/16" side ports | $697.60 | In Stock | | |
| 129-0018-002 | CHAR-LYNN M0J08A01D1000A0B 12.9cc 5 blt 5/8" 9/16" side ports | $697.60 | Out of Stock | | |
| 129-0019-002 | CHAR-LYNN M0J12A01D1000A0B 19.8cc 5 blt 5/8" 9/16" side ports | $697.60 | In Stock | | |
| 129-0020-002 | CHAR-LYNN M0J19A01D1000A0B 31.6cc 5 blt 5/8" 9/16" side ports | $697.60 | Out of Stock | | |
| 129-0021-002 | CHAR-LYNN M0J05B02E2000A0B 8.2cc 5 blt 16mm 3/8" side ports | $697.60 | Out of Stock | | |
| 129-0022-002 | CHAR-LYNN M0J08B02E2000A0B 12.9cc 5 blt 16mm 3/8" side ports | $697.60 | Out of Stock | | |
| 129-0023-002 | CHAR-LYNN M0J12B02E2000A0B 19.8cc 5 blt 16mm 3/8" side ports | $697.60 | In Stock | | |
| 129-0024-002 | CHAR-LYNN M0J19B02E2000A0B 31.6cc 5 blt 16mm 3/8" side ports | $697.60 | Out of Stock | | |
| 129-0035-002 | CHAR-LYNN M0J12B06E2000A0B 19.8cc 5 blt spline 3/8" side ports | $666.70 | In Stock | | |
| 129-0098-002 | CHAR-LYNN M0J08C01A1000A0B 12.9cc 2 blt 5/8" 9/16" end ports | $682.70 | Out of Stock | | |
| 129-0099-002 | CHAR-LYNN M0J12C01A1000A0B 19.8cc 2 blt 5/8" 9/16" end ports | $697.60 | Out of Stock | | |
| 129-0100-002 | CHAR-LYNN M0J19C01A1000A0B 31.6cc 2 blt 5/8" 9/16" end ports | $697.60 | Out of Stock | | |
| 129-0104-002 | CHAR-LYNN M0J19D02E2000A0B 31.6cc 2 blt 16mm 3/8 side ports | $697.60 | Out of Stock | | |
| 129-0113-002 | CHAR-LYNN M0J05B02H2000A0B 8.2cc 5 blt 16mm 3/8" end ports | $697.60 | In Stock | | |
| 129-0114-002 | CHAR-LYNN M0J08B02H2000A0B 12.9cc 5 blt 16mm 3/8" end ports | $697.60 | Out of Stock | | |
| 129-0115-002 | CHAR-LYNN M0J12B02H2000A0B 19.8cc 5 blt 16mm 3/8" end ports | $697.60 | In Stock | | |
| 129-0116-002 | CHAR-LYNN M0J19B02H2000A0B 31.6cc 5 blt 16mm 3/8" end ports | $697.60 | Out of Stock | | |
| 129-0180-002 | CHAR-LYNN M0J19A09D1000B0B 31.6cc 5 blt 5/8" 9/16" side ports | $738.10 | Out of Stock | | |
| 129-0182-002 | CHAR-LYNN M0J08A09A1000B0B 12.9cc 5 blt 5/8" 9/16" end ports | $738.10 | Out of Stock | | |
| 129-0183-002 | CHAR-LYNN M0J12A09A1000B0B 19.8cc 5 blt 5/8" 9/16" end ports | $738.10 | Out of Stock | | |
| 129-0244-002 | CHAR-LYNN M0J19B14E2000A0B 31.6cc 5 blt 16mm nickel 3/8" side | $697.60 | Out of Stock | | |
| 129-0341-002 | CHAR-LYNN M0J12A01D000000B 19.8cc 5 blt 5/8" 9/16" side ports | $697.60 | Out of Stock | | |
| 129-0370-002 | CHAR-LYNN M0J19B06F000000B 31.6cc 5 blt spline 1/4" side ports | $666.70 | Out of Stock | | |
| 129-0374-002 | CHAR-LYNN M0J19B02E000000B 31.6cc 5 blt 16mm 3/8" side ports | $666.70 | Out of Stock | | |
| 129-0379-002 | CHAR-LYNN M0J05B06E000000B 8.2cc 5 blt spline 3/8" side ports | $666.70 | Out of Stock | | |
| 129-0411-002 | CHAR-LYNN M0J30A01A1000A0B 49.2cc 5 blt 5/8" 9/16" end ports | $697.60 | Out of Stock | | |
| 129-0416-002 | CHAR-LYNN MTR J2 193 CID/316 CC | $666.70 | Out of Stock | | |
| 129-0418-002 | CHAR-LYNN M0J12B14E2000A0B 19.8cc 5 blt 16mm nickel 3/8" side | $697.60 | Out of Stock | | |
| 129-0420-002 | CHAR-LYNN M0J05B14E2000A0B 8.2cc 5 blt 16mm nickel 3/8" side | $697.60 | In Stock | | |
| 129-0422-002 | CHAR-LYNN M0J19A09A1000B0B 31.6cc 5 blt 5/8" nickel 9/16" end | $697.60 | Out of Stock | | |
| 129-0432-002 | CHAR-LYNN MTR J2, 0.5 CID/8.2 CC | $666.70 | Out of Stock | | |
| 129-0435-002 | CHAR-LYNN M0J08C01D0000A0B 12.9cc 2 blt 5/8" 9/16" side ports | $682.70 | Out of Stock | | |
| 129-0445-002 | CHAR-LYNN MTR J2 121 CID/198 CC | $666.70 | Out of Stock | | |
| 129-0479-002 | CHAR-LYNN M0J30B06E000000B 49.2cc 5 blt spline 3/8" side ports | $697.60 | Out of Stock | | |
| 129-0505-002 | CHAR-LYNN M0J30A01D100000B 49.2cc 5 blt 5/8" 9/16" side ports | $697.60 | In Stock | | |
| 129-0551-002 | CHAR-LYNN M0J12D14E200000B 19.8cc 2 blt 16mm nickel 3/8" side | $744.40 | Out of Stock | | |