Home

/

Eaton L D Transmission
Eaton L D Transmission
Model 11 Light Duty Pump – Motor Combo Series
Consists of a variable displacement radial ball piston pump, a fixed displacement radial ball piston motor and a system of valves all contained in one housing.
• These transmissions give fast response and are capable of maintaining precise speed under varying load conditions.
• One lever controls direction and speed smoothly without gear change. This lever also provides braking. The output shaft speed decreases as the lever is moved toward neutral. With the lever in neutral, output stops.
• All-in-one design simplifies product by eliminating complex linkages, leaks from external lines, external high pressure lines and separate drive components.


Specifications - Model 11 Transmission

Max Displacement – Pump

cc/rev

19.0

Displacement – Motor

cc/rev

34.2

Max. Speed - Input

rpm

3600

Max. Speed - Output

rpm

0 - 1950

Max. Power – Input*

kW

15

Max. Torque – Output

Nm

31

Max. Operating Temperature

°C

82
@ max continuous input speed

Specifications
| | | | |
| --- | --- | --- | --- |
| Model | Rotation Input | Input Shaft | Output Shaft |
| 1100-005 | CCW | Keyed, bearing | Keyed |
Proper cooling is essential to the performance and the life of these transmissions.
The recommended max. oil temperature is 82°C. A 205 mm fan must be attached to the coupling at the input shaft to blow air across the finned cover, or use an external oil cooler.


Model 11 Pump
Model 11 radial ball piston pump uses the same pumping element as the Model 11 hydrostatic transmission. Suitable for applications requiring variable flow in both directions up to 66.2 lpm.
Specifications - Model 11 Pump

Max Displacement – Pump

cc/rev

0 – 18.0

Max. Speed

rpm

3600

Max. Operating Pressure

bar

155

Max. Power – Input*

kW

15

Norm. Charge Pump Flow**

lpm

15

Aux. Chg. Pump Pressure

bar

35 (55 bar optional)
* @ 3600 rpm
** @ 3.4 bar and 3600 rpm

Specifications
Model

Rotation

Input Shaft

Output Flow

Charge Pressure

bar

1120-012

CCW*

Keyed, bearing

Bottom port B

55

1120-017

CCW

Keyed, bearing

Top port A

55
* Come with Acceleration valves


Download more information here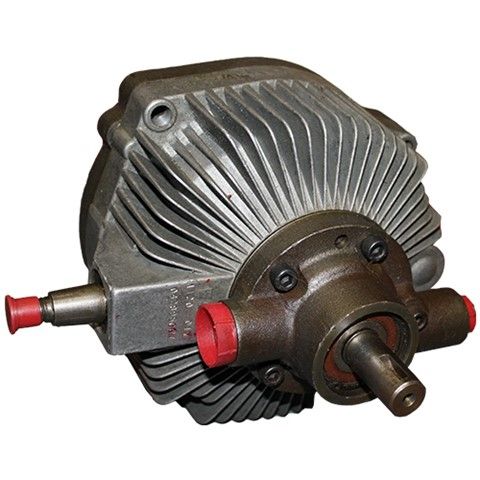 | Code | Product Name | Price | Stock Availability | Quantity | Enquire |
| --- | --- | --- | --- | --- | --- |
| 1100-005 | EATON LD TRANSMISSION 1100 CCW | $1,112.70 | Out of Stock | | |
| 1100-012 | EATON LD TRANSMISSION 1100 CCW | $1,112.70 | Out of Stock | | |
| 1120-012 | EATON LD TRANSMISSION PUMP 1120 CCW | $1,112.70 | In Stock | | |
| 1120-017 | EATON LD TRANSMISSION PUMP 1120 CCW | $1,112.70 | Out of Stock | | |